Knowledge is power. Using it is powerful.
        Support teams have a lot of knowledge about customer issues—and the best way to solve them. Zendesk Guide is a smart knowledge base that helps tap into that institutional knowledge and puts it to work. With Guide, you can quickly build a customizable help center, online community, and customer portal so customers get better self-service and agents see improved efficiency and faster resolution. And since it's the only knowledge base native to Zendesk, it integrates seamlessly with Zendesk Support.
Give customers the most relevant answers and information automatically and in context for a faster self-service experience.
AI powered Answer Bot* can resolve high-frequency, low-touch tickets by sending customers relevant articles while they wait for an agent.
Measure and score the popularity and effectiveness of your content to see what needs work, and what you should write next.

Zendesk Support works with Guide to make your knowledge base smarter. When customers use self-service, Guide tracks that activity and sends it to Support in the form of contextual insights in Pathfinder that help agents analyze customer activity and solve tickets faster. This info is fed back into Guide, which continuously improves and refines the info it offers to both agents and customers.
With Guide, setting up a well-stocked knowledge base is easy. The Knowledge Capture app* allows agents to turn every customer interaction into new content, flag old content for improvements, and even search for articles to share in tickets. This continuous feedback loop creates a treasure trove of knowledge for agents—both new and old—and helps get your self-service up and running right out of the gate.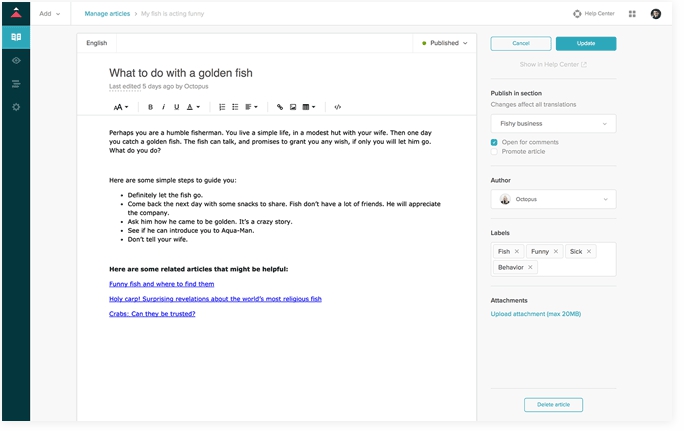 "Investing in our knowledge base meant we saw a massive decline in the number of support requests coming in. Partners were getting what I consider to be the very best service—which is that they never had to log a ticket in the first place."
– Mike Cartwright Chief of Partner Solutions at Expedia® Affiliate Network (EAN)
       The Guide Answer Bot* lends agents a helping hand, reducing their workload and freeing them up to focus on problems that require a human touch. Using artificial intelligence, Answer Bot automatically resolves high-frequency and low-touch tickets by suggesting relevant articles to customers while they wait for an agent. And Answer Bot keeps getting smarter. It learns from each customer interaction and trains itself to deliver more relevant and customized content with each solved ticket.