What is a ticketing system?
A help desk ticketing system (support ticket system) is help desk software that collects and tracks all customer support interactions from various channels—phone, chat widget, email, and social media. No matter how a customer chooses to reach out to your team, that interaction will be logged in the system.
When it comes to efficiency, not all ticket management systems are created equal. Zendesk Support is an omnichannel ticketing system that makes it easy for your business to track, prioritize, and solve customer support tickets for inquiries. Zendesk support ticketing software makes it effortless for teams to access and manage all information from one centralized hub, giving chat agents a full view of each customer and their journey, regardless of where the conversation originated.
A multi-channel support ticketing system
When it comes to customer satisfaction, we know that customers want to resolve issues seamlessly on the platform they prefer. That doesn't mean chat agents have to stumble through multiple information silos to reach them.
Zendesk is designed to seamlessly connect your customer support team with customers across all platforms. Our omnichannel ticket system is designed to keep the conversations with customers going on any channel without losing context. And with Zendesk live chat software, customers will experience quality customer service on their preferred platform, whether it's through email or a chat session on Facebook Messenger.
Beyond improved customer satisfaction, Zendesk's ticket support system software is also a dream for chat agents, who get a comprehensive view of the entire customer journey, so they can stop searching for information and start chatting. The centralized hub makes it easy for managers and admins to track their team's performance metrics, KPIs, and SLAs across the customer experience.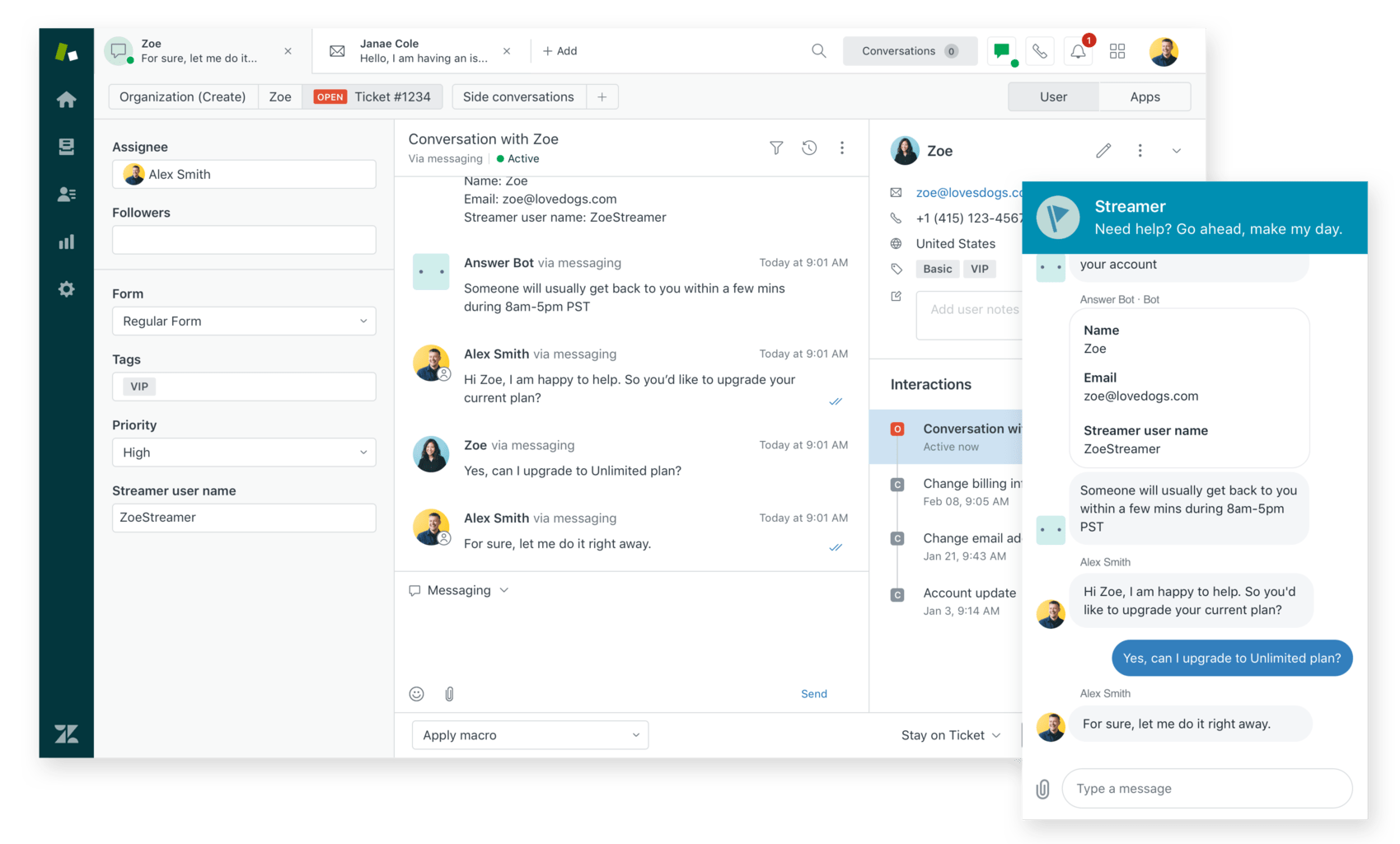 Context is king in a ticket system
No one wants to feel like they're talking to a robot. Zendesk software sets your team up with everything they need to provide customers with truly personalized service. With an omnichannel ticket support system, your agents have full details about every customer they interact with through an organized workflow. Equipped with context about every customer, customer support agents can quickly resolve individual support requests and provide quality customer experience across the board.
Problem-solve at lightning speed
Beyond having a centralized hub for a seamless workflow, Zendesk software makes it easy for your team to identify issues as soon as they arise.
Tickets are assigned unique reference numbers and statuses to help teams manage and prioritize their workflow. To stay on track, teams can also set up alerts in Zendesk for tickets that agents haven't responded to in a timely manner.
With Zendesk's built-in issue tracking system, the support team can easily identify IT issues the moment they're raised by customers. Agents can use the information gained from Zendesk's issue tracker to notify the software development team of bugs or create new self-help resources for customers.
By identifying problems early, your team can take action swiftly to ensure customer satisfaction isn't interrupted.
Elevate customer support with Zendesk's ticketing system
Seamless communication doesn't have to be a distant dream for you and your team. Zendesk's omnichannel ticket system elevates your customer reach and bridges the gaps within your business. With our open CRM platform Zendesk Sunshine, you can connect all customer data so chat agents have all the customer context they need to respond easily across channels through live chat software. Plus, reporting with customer service analytics gives you detailed insight into your support agents work so you can make your workflow work better for both your team and your customers. That's a win.
Learn more about Zendesk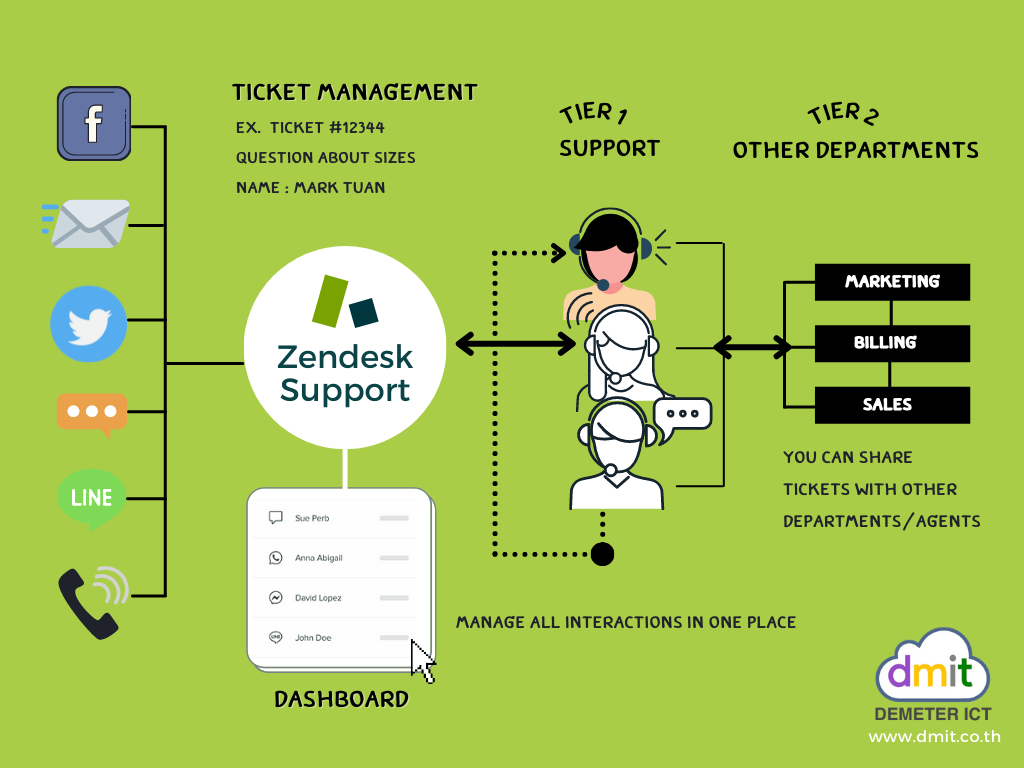 KERRY EXPRESS
Demeter ICT involved in Zendesk implementation at Kerry Express, starting from customer service process design, configuration, integration with Telephony and Chatbot, training, testing, data migration and Go-Live Support. The implementation time was around two months.
LINEMAN
Demeter ICT participated in Zendesk implementation at LINE MAN WONGNAI. The scope of work is involved with customer service process design, configuration, integration with Telephony, training, testing, data migration and Go-Live Support. The system was up and ready in one month.
Cathay Pacific Airways
"As a customer-centric airline, it is essential that Cathay Pacific communicates with our customers on the channels they prefer. Messaging is fast becoming the preferred mode of communication of our customers and we're looking forward to enhancing our customer experience with these new Zendesk capabilities." - Lawrence Fong Group GM IT and Digital, Cathay Pacific Airways
TRUE
Demeter ICT helps TRUE implement the Zendesk system. The scope of work is involved with customer service process design, configuration, training, testing, data migration and Go-Live Support. This is another ideal case that the customer started from a small portion of Zendesk deployment in order to prove the concept and expand significantly during the past few years.
Riot Games
"Zendesk is very much focused on the 'player' experience, like we are. I feel like we've always been able to speak honestly with each other." Shaun 'BlueFire' Randall Product Manager Support Engineering at Riot Games
Evernote
"We love the help center in Zendesk because it's easy to use. We get some great analytics out of it in terms of which articles are being used the most. It helps us to make adjustments and to see what's helping our users." - Gerald Hastie Director, Global Customer Experience at Evernote
Tesco
"Zendesk allows us to treat our colleagues with as much care as we give our customers." - Adam Bruce Lead Product Manager, Service Desk at Tesco
Discord
"If we hadn't invested so heavily in incredible support and our customer experience, we'd probably be just another app. Even if we're just sharing cat memes, we're constantly engaging with our customers, so they feel like they really know us as people. That's a big part of our brand, and that starts with great support." - Danny Duong Director of Customer Experience at Discord
Airbnb
"Having a partner that really understands our business, and how ambitious we are, is huge—because service, at the end of the day, needs to be in lockstep with every single track of work that's happening within Airbnb." Shirley Lin Product Lead of the Support Products Group at Airbnb
LINE OFFICIAL