Introducing : "Help-desk software" that creates better customer experiences for your business !
What does help desk software do?
A helpdesk is technology that executes a few core tasks, and ideally far more, acting as a partner as you scale. Traditionally, a help desk defines its goals and processes based on government and corporate best practices such as ITIL (Information Technology Infrastructure Library). The goal within ITIL when dealing with customer issues or incidents specifically is to "restore normal service operation as quickly as possible and minimize the adverse effect on business operations," Mikkel Svane, CEO of Zendesk, once said. Not all help desk solutions are created equal and not all help desk solutions do the same things. That said, here are the basics :
Handle customer questions and issues in a systematic way : 

from intake, managing, and organizing, to response and resolution, and ultimately, reporting

Allow for multi-channel support.

This means that you choose the channels that are right for your customers —phone, live chat, texting, email

Self-service capabilities.

What does your ideal knowledge base look like? The right service desk lets you take your team's institutional knowledge and put it to work for your company, internally, and all your customers in a self-service portal

Tracking and analytics.

How quickly were support requests first answered and ultimately resolved? How happy was the customer?

Integrations.

Apps, widgets, and add-ons can be lifesavers in the present and integral to future growth
How Zendesk help desk software solves support problems?
Customer satisfaction is critical to most every successful business, and there are two main kinds of customers: the external kind, the people you created your business to serve, and also the internal kind, your employees. Helpdesk software that's seamless and omnichannel is now the standard. But what does it mean, long term, to satisfy your customer's needs? Do positive interactions have the same long-term impact as negative ones? According to The 2018 Zendesk Customer Service Survey Report, for 97% of respondents, bad customer service changes buying behavior, and for 87%, good customer service —by phone, live chat, email, et cetera—changed buying behavior.
Who uses help desk software?
A great help desk is at the heart of great customer support. Help desk software enables support agents to track, prioritize, and solve customer support tickets. But Zendesk is more than just help desk software; it's a cloud-based software and engagement platform for customer service that offers omnichannel support. That means that customer interactions across phone, chat, email, social media, and any other channel you can imagine come together, all in one place.
Zendesk helps streamline customer support with time-saving tools like triggers and automations. It's support desk software that is intuitive and easy to use because it's built with both customers and service desk agents in mind. Great customer support starts with the right tools, and with Zendesk, you've got everything you need to build the best customer experience possible.
Service desk software is for all types of teams and companies
Enterprises
Companies like Expedia, Tesco, and Vodafone have implemented Zendesk's help desk software to provide innovative support at scale.
SMBs
Washio and other small businesses like Baublebar and charity: water use the Zendesk ticket management system to offer customer service for their growing businesses.
Retailers
Shopify scaled service desk operations for its e-commerce business using Zendesk.
HR Teams
UTI, John Lewis, and other HR teams use Zendesk to provide streamlined, responsive help desk support software to their employees.
IT Teams
Zendesk customer service software powers the IT Help Desk at Xerox, allowing employees to get quick IT help.
Educators
The UCLA department of Psychology supported 200 staff members with a two-person team using Zendesk helpdesk software.
Zendesk : Make your ticketing software yours
Fast, personalized responses Customer service desk agents can create and share their own macros in order to quickly respond with a standard reply to recurring customer inquiries.
Custom views Personalized views let helpdesk agents see their queue based on ticket status, assignee, group, or other conditions.
Apps Marketplace Get even more from Zendesk products with over 500 apps and integrations, available on our Apps Marketplace
HELP DESK SUPPORT SOFTWARE , Better together
Team up
Zendesk's web-based help desk solution allows support teams to collaborate with each other and share information using private comments on any issue that may arise. It also displays real-time updates about who is viewing a ticket at any given moment.
Help others help themselves
Combine your service desk software with a customizable help center, knowledge base, online community, and customer portal so customers get better self-service and agents see improved efficiency and faster resolution.
Gain insights
With Zendesk's reporting and analytics tools, you can get insight into what matters most — from seeing the performance of your team, to how satisfied your customers are.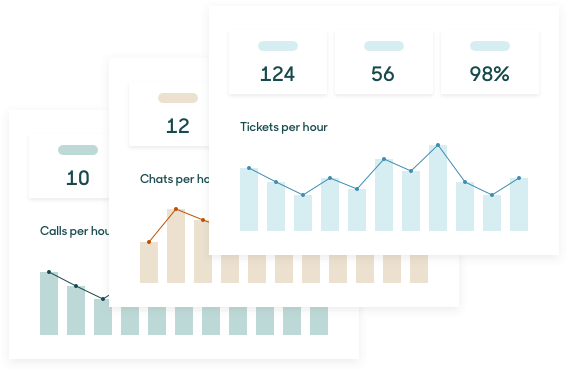 Get the right information from customers
Dynamic request forms and ticket fields give support ticket agents extra context, so they're better prepared for the conversation and can offer more personalized customer support.
Never miss a deadline
SLAs are built-in so help desk agents can set their own parameters, and use up-to-the minute measurements to keep an eye on the status of specific tickets.
Take your help desk on the go
Our native mobile apps enable help desk agents to respond to customer service requests — even when they're away from their desks.
Learn more about Zendesk

KERRY EXPRESS
Demeter ICT involved in Zendesk implementation at Kerry Express, starting from customer service process design, configuration, integration with Telephony and Chatbot, training, testing, data migration and Go-Live Support. The implementation time was around two months.
LINEMAN
Demeter ICT participated in Zendesk implementation at LINE MAN WONGNAI. The scope of work is involved with customer service process design, configuration, integration with Telephony, training, testing, data migration and Go-Live Support. The system was up and ready in one month.
Cathay Pacific Airways
"As a customer-centric airline, it is essential that Cathay Pacific communicates with our customers on the channels they prefer. Messaging is fast becoming the preferred mode of communication of our customers and we're looking forward to enhancing our customer experience with these new Zendesk capabilities." - Lawrence Fong Group GM IT and Digital, Cathay Pacific Airways
TRUE
Demeter ICT helps TRUE implement the Zendesk system. The scope of work is involved with customer service process design, configuration, training, testing, data migration and Go-Live Support. This is another ideal case that the customer started from a small portion of Zendesk deployment in order to prove the concept and expand significantly during the past few years.
Riot Games
"Zendesk is very much focused on the 'player' experience, like we are. I feel like we've always been able to speak honestly with each other." Shaun 'BlueFire' Randall Product Manager Support Engineering at Riot Games
Evernote
"We love the help center in Zendesk because it's easy to use. We get some great analytics out of it in terms of which articles are being used the most. It helps us to make adjustments and to see what's helping our users." - Gerald Hastie Director, Global Customer Experience at Evernote
Tesco
"Zendesk allows us to treat our colleagues with as much care as we give our customers." - Adam Bruce Lead Product Manager, Service Desk at Tesco
Discord
"If we hadn't invested so heavily in incredible support and our customer experience, we'd probably be just another app. Even if we're just sharing cat memes, we're constantly engaging with our customers, so they feel like they really know us as people. That's a big part of our brand, and that starts with great support." - Danny Duong Director of Customer Experience at Discord
Airbnb
"Having a partner that really understands our business, and how ambitious we are, is huge—because service, at the end of the day, needs to be in lockstep with every single track of work that's happening within Airbnb." Shirley Lin Product Lead of the Support Products Group at Airbnb
Contact Us: Demeter ICT Company Limited, No.1 Zendesk Authorized Solution Provider in Thailand and APAC. [ Demeter ICT ] – Our specializations are "CX Design", "Consulting," "Implementation", "System Integration" and "Training" for Zendesk. We help clients analyse, design workflows, and build a good CX.
LINE OFFICIAL