Learn how self-service support and agents can work to provide an exceptional service experience that keeps customers coming back.


To give outstanding support, customer service teams require their systems, tools, processes—and most of all—people to function in harmony. But in place of personalized service, self-service support is your stand-in, and it has to be just as good as your agents.
This harmonic approach is important because 69 percent of consumers want to resolve as many problems as possible on their own via self customer service options, according to the Zendesk Customer Experience Trends Report.
Of course, self-service solutions don't replace human help, since many consumers still prefer chatting to a live person when they have a problem. Rather, the two should effortlessly work together to deliver an amazing service experience that keeps your consumers coming back.
Solving for speed and complexity
Time and complexity are important factors in selecting between self-service versus an agent. Our Customer Experience Trends Report indicated that half of consumers pick a channel depending on how soon they need a response, and roughly 40 percent choose a channel based on the complexity of their problem.
When customers prefer self customer service
Many customers want the ability to resolve problems on their own. A report from Microsoft found that 86 percent of customers expect a self-service option. Here are a few scenarios where a customer may opt for self-service options:

On for a quick answer to a simple question. blogs, FAQ pages, videos, chatbots—are all capable of resolving straightforward issues without intervention from an agent.

When wait times for representatives are long. Most of us have experienced the tragic "Your call is important to us" automated message that plays over and over while we wait on hold. When COVID-19 shutdowns started in March 2020, many consumers waited hours on hold with airline and credit card firms. These long wait times are irritating, thus consumers typically prefer using self-service support tools instead of waiting a long time to talk to an agent.

When support is needed after hours. Customers want 24/7 help, but it isn't realistic for most businesses to have agents accessible all the time. Self-service enables clients to access the support they need outside of office hours without the expense of employing extra workers.
When customers rely on live assistance
Many customers prefer to start with self customer service because it's convenient for simple issues. They can then get an agent involved if necessary.
Customers may require extra guidance when issues are more pressing, emotional, or anxiety-producing. Here are some situations where customers may turn to phone, chat, or messaging support with a live agent:
For urgent or "high-stakes" issues.

These things might always happen to customers if at certain times where the customer is in deep need of our help especially when they are in a very short period of time to solve the problems.



For complex issues.

Some circumstances are unclear and difficult. In certain cases, AI frequently isn't prepared to appropriately react and often leaves consumers feeling unhappy. That is where they need the actual agents to consult.
When unable to access technology.

We know that this is an internet era where everyone at least has access to technology. However, not everyone owns a piece of technology if we talk about it realistically. So, Agents might be the way to go for those consumers.
3 helpful self-service examples for customer service teams
Many customers prefer to start with self customer service because it's convenient for simple issues. They can then get an agent involved if necessary.
Self-service is also a useful, cost-effective solution for businesses. Research from Gartner showed that live channels, including phone calls and emails, cost an average of $8.01 per contact, whereas self-service solutions cost about $0.10 per contact.
By offering self-service support, you're freeing up agents to handle more complicated situations. It also empowers you to serve more customers and save your company thousands of dollars.
Chatbots
Chatbots communicate with customers across chat, messaging, email, Slack, and more. Bots use AI to understand user requests and provide a response based on programming. Thus, Chatbots are always online and great at answering basic questions, gathering information, and handling low-priority tickets to save your support team time. (Chatbots Blog)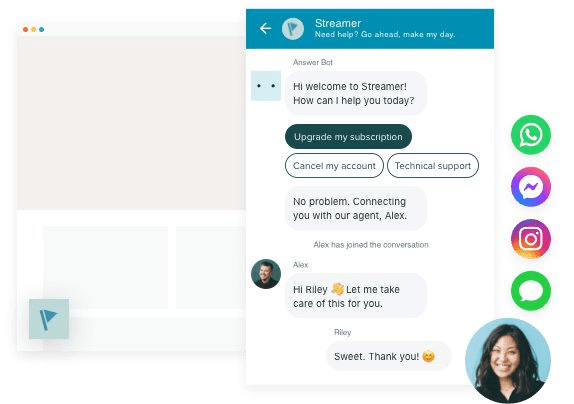 Help centers
Help centers, also known as knowledge bases, are online support hubs that provide quick access to key resources, tutorials, and information for both customers and support agents. They should be searchable and easy to navigate.
This type of self-service option is great for customers who want to research and troubleshoot issues on their own before contacting support. They can read in-depth guides or watch instructional videos at their own pace, rather than having to wait for an agent to walk them through it.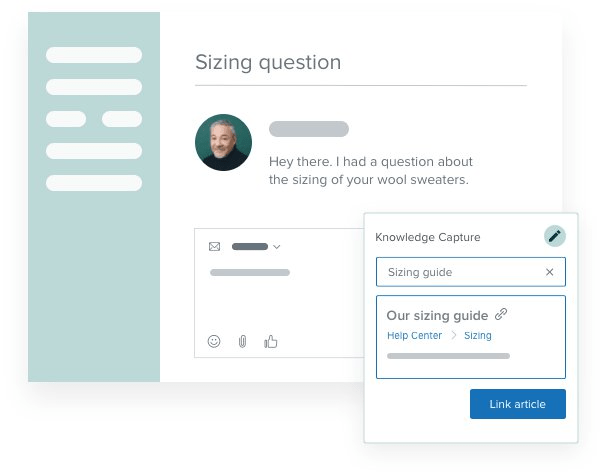 Communities
Communities are online forums and groups that allow customers to ask and answer questions publicly and share knowledge with others. These responses are generally saved and searchable so customers can view previous inquiries if they have a similar issue.