As a business owner, it is indeed important to pay attention to consumer behavior trends since technology has an influence on how we live our lives.
However, consumers are looking for something essential and trustworthy. As a result, we are always upgrading and keeping up with the latest developments. So that companies may adapt to the ever-changing demands of their consumers.
So, today we have summarized 6 trends in creating CX (Customer Experience) that are suitable for consumer behavior for 2022 by Dr. Warunyu Suchiworaphanpong, CEO of Demeter ICT Company.
He delivered a lecture at the seminar The New Way of CX: Cracking the Next Generation Customer Experience to unlock your business potential to catch up with the world in 2022 with Zendesk. So, what will be the next trends? Let's work together to break the code!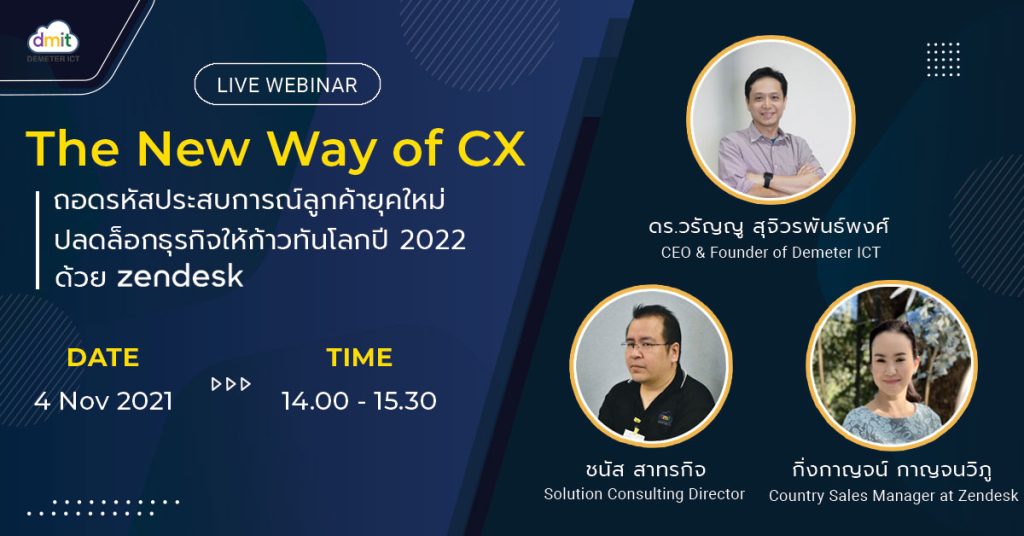 What are the 6 Consumer Behavior CX Creation Trends for 2022?
1
. 
Create a perfect balance between people and automation,
 since deploying AI in the workplace, such as AI Chatbots, would greatly reduce the load of service jobs. However, if the human-AI balance is poor or improper, it might be a double-edged sword that destroys the CX client's experience.
2
. 
Customers expect a personalized experience
; this means that we need to know who they are? What is it that they require? What did they purchase from us? How many times have they been in touch with us? As a consequence, consumers don't have to repeat themselves in a confusing way, resulting in a better customer experience. 
3
.
 Create a feedback tool to ensure that consumers are heard
. Which means, allowing clients to comment on our services on whether or not what they got from us was excellent or bad? Is there anything you'd want to change about it? So that firms may use client feedback to improve their business processes.
4
. 
Develop Customer Service Communities
 for customers to exchange information between customers and businesses. That is why, Companies like Apple, Google, or Zendesk, have communities where their customers can freely exchange information. Where It also helps build long-term Brand Loyalty.
5. Create many channels for customer service. (Multichannel) because consumers are more likely to pick a communication channel that is convenient for them or that they use regularly. As a result, businesses must build many channels to serve customers who arrive in a number of ways.
6
. 
Ensure that you have a self-help option.
 You may also use a Self Service system to do this, which is a round-the-clock customer support service where clients can learn about product upgrades and receive upgrades or newer versions without having to wait for the support team. By offering Knowledge Base, Help Desk, FAQs, video lessons, chatbox, and agents all are ways to make yourself available
As for the top 6 trends mentioned by the speakers, they appear to be difficult tasks that cost both time and money for most companies. However, if you have the best customer support product like Zendesk, it will help you do all of this work while also costing less and taking less time.
We have recently created a package for small and medium-sized companies (SMBs) and businesses searching for solutions to improve customer service efficiency and expand their company. However, if you're on a tight budget, Zendesk Suite for SMB is simple to set up and takes just 5 days to complete.
Demeter ICT is also the No. 1 Zendesk Partner in APAC, with a team of professionals that counsel independently on a variety of work approaches to fit each kind of CX company. Come improve your business with us in 2022 to catch up with the rest of the world.